Our ayurveda treatments and panchakarma therapy are provided at the most beautiful Sea Shell Ayurveda Resort which is short distance away from the hurly burly of  Kerala life. We started working with Sea Shell Resort to provide our guests with good value ayurvedic treatments in a peaceful and restful environment. This resort is built in tune with the nature and does everything to maintain the beauty and energy of mother Earth. You can have the beautiful view of twilight and the hug of the Arabian sea breeze from your rooms, enjoy a brisk romantic walk on the warm sand and feel the loving touch of sea water under your feet.
The restaurant here is open on all the sides and you will be provided with most healthy organic and homely ayurvedic foods pleasing both your body and mind. We also make arrangements to experience some Kerala cultural festivals and small trips to explore the tourist spots without disturbing the rhythm of your treatments. we also provide the facilities to make some vedic astrology consultations.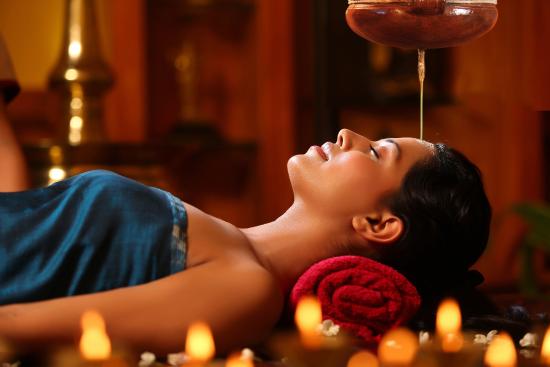 Dhanwanthari Ayurveda provides both Short Term Relaxation Packages and Panchakarma Detoxification Packages.
Also various Special Packages are provided to meet your special needs.
In all packages, the best suitable treatment for you is fixed after a detailed consultation with our doctor.
The Short Term Relaxation packages provide you with some relaxation from your hectic schedules and busy lifestyle introducing your body to ayurvedic treatment modalities. During the consultation our doctors analyse your body constitution and the treatments best suited for you are fixed after that. Also, you will be given advice on diet, lifestyle changes and any medications or supplements to be taken.
Panchakarma – The Detoxification Therapy" called the Soul of Ayurveda is a term familiar around the globe to those who are conscious about their health and well being. It brings equilibrium in the body by flushing out the toxins, strengthening the immune system, reducing the stress, rejuvenating the body tissues and slowing down the ageing process.
The world we live in today demands a periodic detoxification as the fast moving and erratic life style, environmental pollution, contaminated food and water, unhealthy eating habits, the mounting stress and strain, over – dependence on drug therapy and, most importantly, the alienation of man from nature have deposited a lot of toxins inside us both physically and mentally.
So we, Dhanwanthari Ayurveda, offer you with the best detoxification Ayurveda Panchakarma and Rejuvenation packages as we consider you to be an integral part of Mother Nature.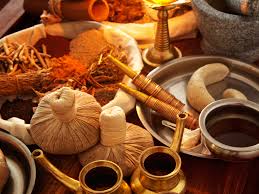 Panchakarma protocol involves:
Poorva Karma (preparatory procedures ) : Abhyanga, various Kizhi, Pizhichil etc
Pradhana Karma (main procedure) : Panchakarmas like Vamana(emesis), Virechanam (purgation), Vasti (enema), Nasyam (nasal treatmant) and Raktha Mokshana (blood letting)
Paschath Karma (post procedure) : diet and life style modifications, Rasayana/ rejuvenative medicines
Note : The best suited treatments for you are fixed only after a detailed consultation with our doctors.
It is always good to take a few more days to stay in the center after receiving Panchakarma treatments to give your body some time to cope with the detoxification process rather than taking an immediate journey which is against treatment principles.
Click here to see our
---